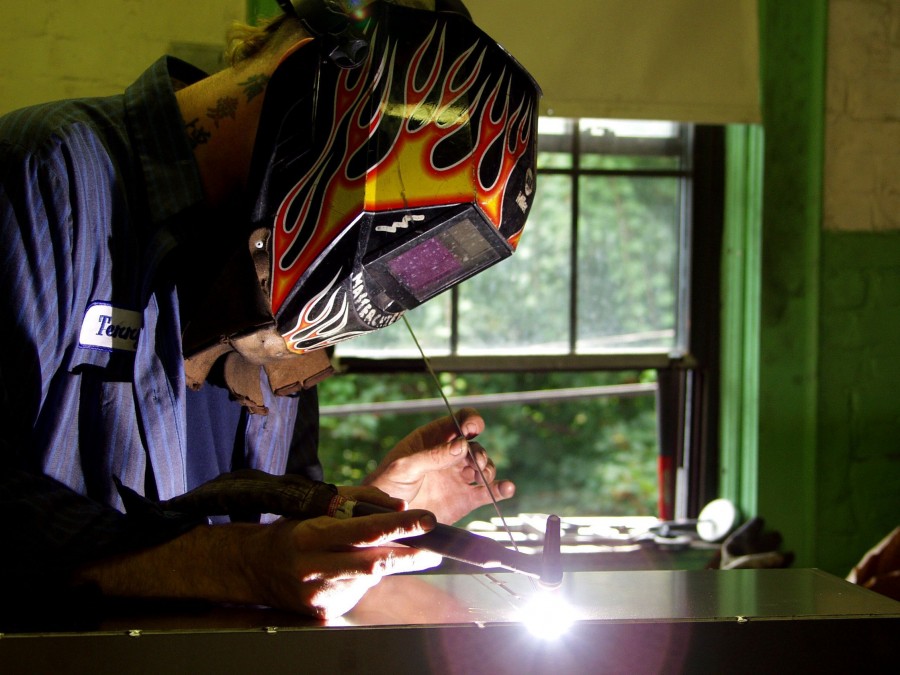 What lies beneath? That could easily apply to a bike found under a layer of dust, a forgotten toy at the bottom of a box or even an abandoned vehicle in a barn – all treasures right in front of you waiting to be uncovered, to be re-discovered. And many times with that rediscovery comes rejuvenation – a breath of new life in that object or maybe even a new purpose. But what happens when it's not just an object changing? What if a person can also find a new purpose for themselves while they are transforming objects at the same time?
This is my brother Terry, he is an artist. He has always been an artist – a passionate guitar player, writer of angry musical anthems, master of poetic love songs and a non-stop tinkerer. However, this artist has been collecting dust under the career of a precision metal fabricator for decades. Long, hard hours working in a shop on projects big and small, simple to complex and for a variety of industrial uses. But, there was always something else….something more magical that lay beneath that daily dirty grind.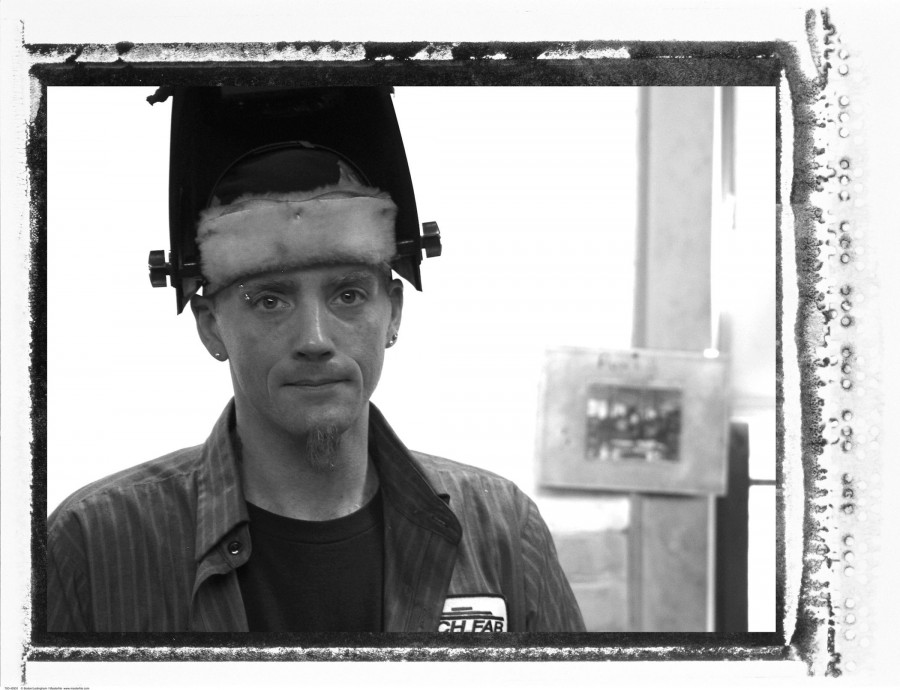 If you are one of those people who likes to judge a book by its cover – perhaps you might take one glance at Terry with his tattoos, mohawk (or no-hawk) and slight smirk, then summarily dismiss him. Rookie mistake – he can look a bit rough around the edges, but you aren't going to get to know him or really see him until you talk to him. An amazingly articulate, passionate human who is fueled by the desire to make his loved ones smile and make other people take a second look at something that was once discarded.
My brother's metamorphosis started about 5 years ago with an accident that left him with 2 ruptured disks. Unable to work, drive or walk – hell, some days he wasn't even able to get out of bed. Sit too much – it hurt; lie down too much – it hurt. He was shuffling around like he was 100 years old and hunched over like Snoopy when he pretends to be a vulture. After many failed attempts at both surgery and rehab over the past few years, he was able to get the reconstructive work he needed a few months ago which made him slightly mobile again.
With many question-filled years under his belt, the likes of "what am I going to do now" or "how can I find something new" and "what if all I'm good at is now gone". The answers to those questions weren't going to be found on the couch so Terry took the risk to try something different. Pushing his new found mobility by taking a walk to the basement about 6 weeks ago, he put on his welding mask one more time and this is what he found in the pile of junk down there…..Meet Boom Boy.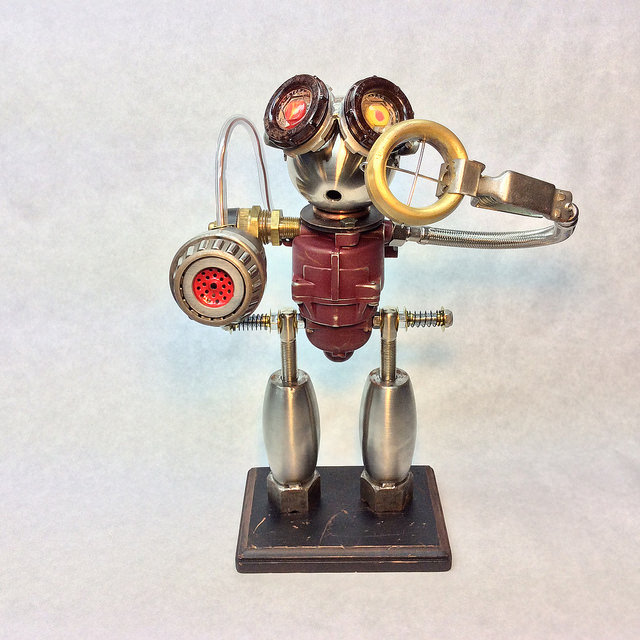 My brother, the welder had scratched the surface just a bit and found an artist lie under those years of pain, of wondering and of waiting. He suffered for his art but in such an unexpected way – he lost his job, a career which was all he ever knew, time with family and friends and many other things which only time will tell. He is only a few months post-surgery and we still don't know what "recovery" will look like for him, only that he'll never be able to go back to what he's done almost every day for the past 20 years. But, I think that's ok because now all eyes are firmly set on the future and that is what is worth living for – not the past.
I am beyond thrilled to say on his first journey outside this weekend to share what he's been working on was an unparalleled success. He brought his Found Object Sculpture/Art to a show in Northhampton, MA….350+ business cards and dozens of prospective buyers later – HE SOLD OUT THE SHOW!!
My scrappy, wonderful, head-strong, amazingly talented brother set the whole place on its ear! I am so beyond happy for him, hopeful for his future and excited for what's to come. He is a master at finding what lies beneath, but don't just take it from me – see his work for yourselves