We am, is, are and be they whom as are known as the Electric Mayhem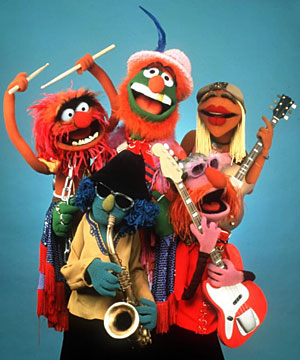 VFC was talking about the Muppet movie in a post today. Of course the flashbacks come rolling in. The first one was mom calling into some radio program and winning the vinyl of "The Muppet Movie" and "Xanadu", followed by memories of watching The Muppet Show on Sunday nights after the Disney movie of the week.
Don't think there's anything cooler than a Muppet.Other more recent memories were of deciding what Muppet you most resemble during a Thanksgiving trip to Big Bear. Somehow the guy I was dating at the time was pegged as Gonzo and I by default became Camilla the Chicken – whatever.  A few years ago I used Sweetum's as a reference to a guy I went a on blind date with, I swear it was him!
Now can you picture that?