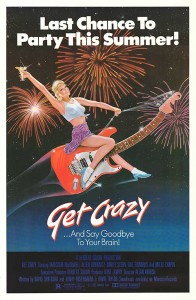 Was plowing through my website all day and trying to get this java-scripted photo album working when I got totally side-tracked. After a quick visit to Live Journal I read something razorart said about a person looking like Lee Ving. Which of course turned into a whole thing about movies in the 80's and the search was on.
I was trying to figure out what the name of the movie he was in, but I could only remember his name in the movie (Piggy) and not the title. Thanks to indiefilms for telling me it was Get Crazy which was directed by Allan Arkush who also did another favorite of mine – Rock and Roll High School. It's got Kid Creole and the Coconuts, Lou Reed, Malcolm McDowell and John Desmore of the Doors – a must music movie see.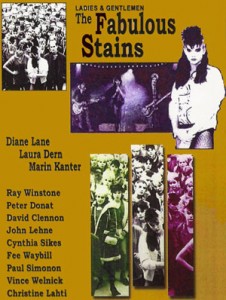 So off I go on the web looking at movie sites which brings me to thinking about Night Flight in the 80's with Alison Steele and all the great music movies they used to show. I remember staying up late drinking Tab and smoking Marlboro Lights watching all the shows. Ah, the pre-MTV generation.
Now off to find more on Night Flight and see if I can find a copy of Ladies and Gentleman the Fabulous Stains.